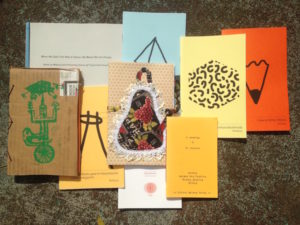 Libros Antena Books is an imprint for small-scale bilingual DIY books and pamphlets that since 2012 has published 10 chapbooks.  Our books are home-made, often hand-bound, accessibly priced, and intended for live human touch. We are committed to enthusiastically celebrating the work of other small and tiny presses, and to supporting others in making their own publications by sharing our bookmaking skills through workshops, web-based tutorials, and how-to pamphlets. Our books are distributed independently and through Half Letter Press.
In addition to the Libros Antena Books that we produce ourselves, we also have an on-going collaboration with Ugly Duckling Presse to produce Señal, a chapbook series for contemporary poetry from Latin America in translation. More info on that can be found here.
---
2016: reciclados languages リサイクルされた lenguajes recycled 言語
For this book project, six local—considering "locality" in this case to encompass the metropolitan and rural and suburban and exurban and documented and undocumented and policed and militarized areas between Los Ángeles and Tijuana—poets/translators were invited to contribute up to 5 pages each of multilingual or non-English-language poetry. The only rule of the project was NO-ENGLISH-ONLY-POETRY. The production of this chapbook was a collaboration between Libros Antena Books, Cartonera Santanera (Santa Ana), Kaya Press (Los Angeles), Kodama Cartonera (Tijuana), and Tiny Splendor (Los Angeles).
The book was released at a cross-language event at the Hammer Museum in Los Angeles that included a poetry reading featuring work written in languages other than English with and without translations, and an interactive cartonera book workshop with Cartonera Santanera (Santa Ana), Kaya Press (Los Angeles), Kodama Cartonera (Tijuana), and Tiny Splendor (Los Angeles). Cartonera bookmaking is a DIY art that invites active community participation in the process of making and publishing books using recycled materials.
An audio recording of that cross-language event and poetry reading is available here.
Download a PDF of reciclados languages リサイクルされた lenguajes recycled 言語
---
2016: 9 recetas & 23 recipes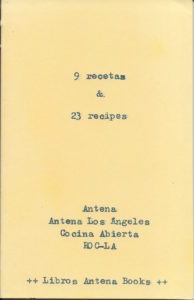 9 recetas & 23 recipes was created as part of MultilingüeLAndia: Antena/Antena Los Ángeles @ Hammer, a Public Engagement residency at UCLA's Hammer Museum. The book was the result of a collaboration with artists, organizers and restaurant workers from the Cocina Abierta collective and Restaurant Opportunities Center of Los Angeles (ROC-LA).
Hammer visitors were invited to an event called Food Labor Justice + Language Justice: A Bilingual Exchange to share food, ideas, and conversation in a bilingual space; first, there were stories from restaurant workers and afterward bilingual dialogue over a family-style meal. Attendees were invited to type out their recipes or recetas on typewriters available in the space, and the collected recipes were made into a small DIY publication by Libros Antena Books and distributed to all participants.
Download PDF of 9 recetas & 23 recipes
---
2014: Antena Pamphlets: Manifestos and How-To Guides
Published in 2014, these five pamphlets lay out the principal lines of thinking and action that guide the work of Antena.
Each of these pamphlets in available in three PDF formats for your reading convenience: an English version, a Spanish version and a bilingual version that is the same PDF we use to produce the hard copies of the pamphlet; just print double-sided, fold and staple to make the bilingual pamphlets. Or you can always email us to have hard copies mailed to you or you can purchase through Half Letter Press.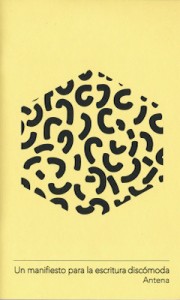 A Manifesto for Discomfortable Writing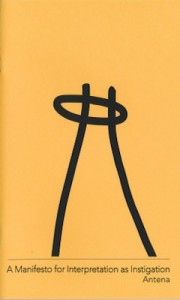 A Manifesto for Interpretation as Instigation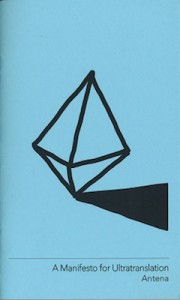 A Manifesto for Ultratranslation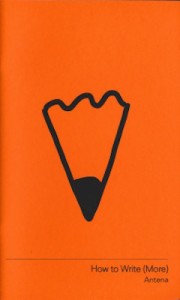 How To Write (More)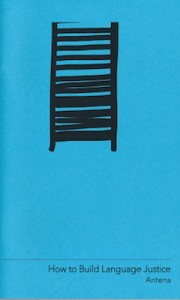 How To Build Language Justice
---
2014: ¡Todas Somos Una! / We Women, One Woman!
¡Todas Somos Una! / We Women, One Woman! A View of the Lived Experience of Domestic Workers is a co-publication of La Colmena (The Beehive) Domestic Workers Collective and Libros Antena Books. The book was written by the women of the collective, which is a project of the Fe y Justicia Workers Center. The goal of La Colmena is to organize housecleaners, nannies, and caregivers, providing trainings and support to build the collective power of domestic workers in Houston.
The process of writing this book began in 2011, when the women of La Colmena did 150 surveys with domestic workers in the Houston area. After hearing the stories of other workers, they decided they wanted to write their stories. To do so, they requested the support of writers­—John Pluecker (Antena) & Stalina Villarreal, who had been longtime volunteers and supporters of the Fe y Justicia Workers Center. All the texts in the book were written during workshops that took place over the course of two years between March 2012 and March 2014. The book was launched as part of CounterCurrent14 inside the installation of Antena @ Blaffer in 2014; the fully bilingual event featured readings from the book, presentations by artists Ingrid Hernandez and Sandra de la Loza about the women's work, and bilingual conversation circles with simultaneous interpretation.
Download a PDF of ¡Todas Somos Una! / We Women, One Woman!
---
2013: When We Said This Was A Space, We Meant We Are People
This book was initially created as a way for Antena to celebrate and document Antena's installation during Spring 2012 as part of Round 36 at Project Row Houses in Houston, Texas. It was made at the instigation of the The Conversant and is available as an Issuu here. 
Antena @ PRH was a durational performance and a functional space where a range of multilingual literary adventures were activated: a bookspace and reading room with hundreds of small-press and DIY publications from autonomous presses in The Americas, a large collection of books from independent presses featuring innovative work by African-American, Latino and Latin American writers, a read/write club that met weekly for 10 weeks, and more.
Download PDF of When We Said This Was A Space…
---
2012: En las maravillas / In Wonder
Published in 2012, En las maravillas/In Wonder was the first Libros Antena Books project: a hand-sewn bilingual book made in conjunction with the exhibition "In Wonderland: The Surrealist Adventures of Women Artists in Mexico and the United States," at the Los Angeles County Museum of Art. Six contemporary Mexican poets were invited to write ekphrastic texts in response to specific images from the exhibition; those texts were then translated into English. For the book, six contemporary USAmerican artists were invited to make ekphrastic pieces in response to the texts. The interior of the book was digitally typeset and the covers were letterpress printed on recycled/repurposed stock with the aid of Amelia, the Chandler and Price pilot press at Stamped Books. The books were hand-sewn with a modified Japanese stab-stitch binding, in homes and public spaces in Los Angeles and Houston.
Download a PDF of En las maravillas/In Wonder
Photos of the production and the books (click to enlarge the images):