Libros Antena Books is an imprint for small-scale bilingual DIY books and pamphlets. Our books are home-made, hand-bound (usually), accessibly priced, and intended for live human touch. We are committed to enthusiastically celebrating the work of other small and tiny presses, and to supporting others in making their own publications by sharing our bookmaking skills through workshops, web-based tutorials, and how-to pamphlets. Our books are distributed independently and through Half Letter Press.
In 2015 in collaboration withBOMB Magazine and Ugly Duckling Presse, Antena founded Señal, a chapbook series for contemporary poetry from Latin America in translation. Read below for more info.
---
Antena Pamphlets: Manifestos and How-To Guides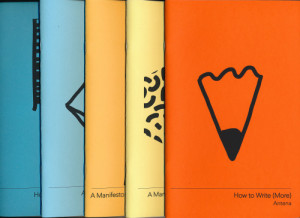 Published in 2014, these five pamphlets lay out the principal lines of thinking and action that guide the work of Antena. Each of these pamphlets in available in three PDF formats for your reading convenience: an English version, a Spanish version and a bilingual version that is the same PDF we use to produce the hard copies of the pamphlet; just print double-sided, fold and staple to make the bilingual pamphlets. Or you can always email us to have hard copies mailed to you or you can purchase through Half Letter Press.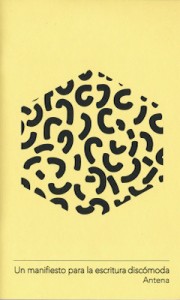 A Manifesto for Discomfortable Writing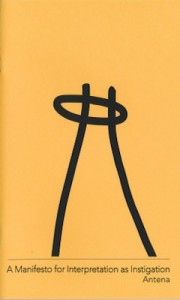 A Manifesto for Interpretation as Instigation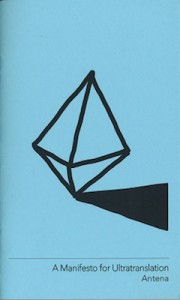 A Manifesto for Ultratranslation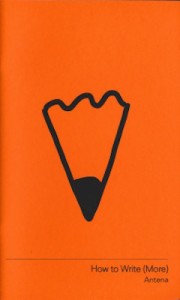 How To Write (More)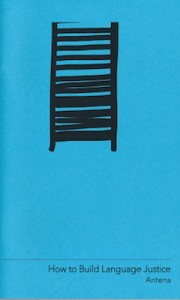 How To Build Language Justice
---
Señal
Señal is a chapbook series for contemporary poetry from Latin America in translation, published collaboratively by BOMB Magazine, Libros Antena Books, and Ugly Duckling Presse. 
Señal publishes two chapbooks a year, linked thematically, conceptually, or trans-historically, troubling received ideas around what the terms "contemporary" and "Latin America" might represent. (Founding Editorial Board: Monica de la Torre, Jen Hofer, Brenda Lozano, John Pluecker, Rebekah Smith, Matvei Yankelevich)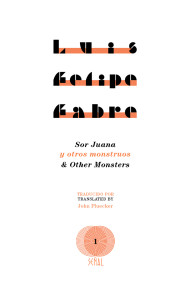 by Luis Felipe Fabre
Translated by John Pluecker
Señal Chapbook # 1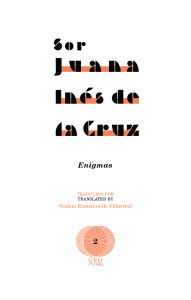 by Sor Juana Inés de la Cruz
Translated by Stalina Emmanuelle Villarreal
Señal Chapbook #2
---
En las maravillas/In Wonder
Published in 2012, En las maravillas/In Wonder was the first Libros Antena Books project: a hand-sewn bilingual book made in conjunction with the exhibition "In Wonderland: The Surrealist Adventures of Women Artists in Mexico and the United States," at the Los Angeles County Museum of Art. Six contemporary Mexican poets were invited to write ekphrastic texts in response to specific images from the exhibition; those texts were then translated into English. For the book, six contemporary USAmerican artists were invited to make ekphrastic pieces in response to the texts. The interior of the book was digitally typeset and the covers were letterpress printed on recycled/repurposed stock with the aid of Amelia, the Chandler and Price pilot press at Stamped Books. The books were hand-sewn with a modified Japanese stab-stitch binding, in homes and public spaces in Los Angeles and Houston. Photos of the production and the books (click to enlarge the images):