LA COLMENA: NARRATIVAS DEL TRABAJO DOMÉSTICO EN HOUSTON / LA COLMENA: NARRATIVES OF DOMESTIC WORK IN HOUSTON
INAUGURACIÓN DE LIBRO Y CELEBRACIÓN /
BOOK LAUNCH AND CELEBRATION
DOMINGO / SUNDAY
13 DE ABRIL / APRIL 13
4:00PM–7:00PM
Tod@s son bienvenid@s. El evento será bilingüe con interpretación en vivo. / All are welcome. The event will be bilingual with live interpretation.
* Message follows in English *
"¡Todas somos una! Una mirada hacía la realidad de las trabajadoras del hogar" es un libro escrito por las mujeres del Programa de Trabajadores Domésticos La Colmena, un proyecto del Centro Laboral Fe y Justicia. La meta de La Colmena es la organización de limpiadoras de casas, niñeras y cuidadoras, proporcionando capacitación y apoyo para la construcción del poder colectivo de las trabajadoras domésticas en Houston. Más info en www.trabajadoreshouston.org.
Este plaquet es una co-edición de La Colmena y Libros Antena/Antena Books, un proyecto de Antena, un colaborativo de justicia de lenguaje y experimentación literaria fundado en 2010 por Jen Hofer y John Pluecker. Antena considera la práctica estética como parte integral del trabajo de justicia de lenguaje. Más info en www.antenaantena.org.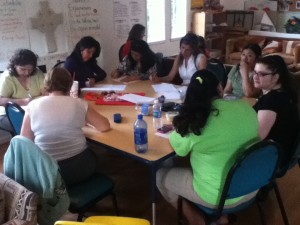 El proceso de escribir este libro empezó en el 2011, cuando las mujeres de La Colmena hicieron 150 encuestas con trabajadoras del hogar en el área de Houston. Después de escuchar los relatos de otras trabajadoras, decidieron que querían escribir sus historias. Para lograr tal próposito, buscaron el apoyo de dos escritores—John Pluecker y Stalina Villarreal (voluntarios desde hace mucho tiempo en el Centro Laboral Fe y Justicia)—para apoyarlas en el proceso escritural. Todos los textos en el libro fueron escritos a lo largo de dos años de talleres que se llevaron a cabo entre marzo de 2012 y marzo de 2014.
Habrá lecturas del libro, presentaciones de las artistas Ingrid Hernández y Sandra de la Loza sobre el trabajo de las mujeres y círculos de conversación.
El evento es parte del Festival CounterCurrent 2014 y recibe apoyos por del Centro de las Artes Cynthia Woods Mitchell, que a su vez recibe parte de sus fondos del Houston Endowment, Inc.
+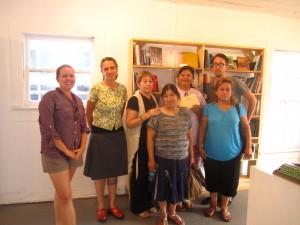 "We Women, One Woman! A View of the Lived Experience of Domestic Workers" is a book that was written by the women of La Colmena (The Beehive) Domestic Workers Collective, a project of the Fe y Justicia Workers Center. The goal of La Colmena is to organize housecleaners, nannies, and caregivers, providing trainings and support to build the collective power of domestic workers in Houston. More info at www.houstonworkers.org
This chapbook is a co-publication of La Colmena and Libros Antena/Antena Books. Antena is a literary experimentation and language justice collaborative founded in 2010 by Jen Hofer and John Pluecker. Antena views their aesthetic practice as part and parcel of their language justice work. More info at www.antenaantena.org.
The process of writing this book began in 2011, when the women of La Colmena did 150 surveys with domestic workers in the Houston area. After hearing the stories of other workers, they decided they wanted to write their stories. To do so, they requested the support of writers­—John Pluecker & Stalina Villarreal (longtime volunteers and supporters of the Fe y Justicia Workers Center)—to assist them with the writing process. All the texts in the book were written over the course of two years during workshops that took place between March 2012 and March 2014.
There will be readings from the book, presentations by artists Ingrid Hernandez and Sandra de la Loza about the women's work and conversation circles.
ABOUT COUNTERCURRENT: APRIL 9–13, 2014
CounterCurrent14 is a five-day festival of bold experimental art presented by the UH Cynthia Woods Mitchell Center for the Arts. Occupying a range of unexpected sites in the city of Houston, CounterCurrent includes audio and visual installation, live performance, and participatory events by artists from around the world. Visit http://countercurrentfestival.org/ for more information.
ABOUT THE Cynthia Woods Mitchell Center for the Arts
The Cynthia Woods Mitchell Center for the Arts is dedicated to interdisciplinary collaboration across the performing, visual, and literary arts. Based at the University of Houston, the Mitchell Center commissions and produces new works, presents public performances and exhibitions, offers curriculum and scholarships, and hosts residencies with renowned visiting artists from throughout the world. The Center is home to the Mitchell Artist Lecture, an annual event featuring a pioneer in contemporary art-making, as well as CounterCurrent, an annual spring festival of new performance. The Mitchell Center forms an alliance among five departments at UH: the School of Art, Moores School of Music, School of Theatre & Dance, Creative Writing Program, and Blaffer Art Museum. For more information visit www.mitchellcenterforarts.org