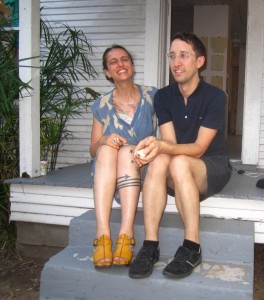 Antena is a language justice collaborative founded in 2010 by Jen Hofer and John Pluecker, both of whom are writers, artists, literary translators, bookmakers and activist interpreters. We view our aesthetic practice as part and parcel of our language justice work. Antena activates links between social justice work and artistic practice by exploring how critical views on language can help us to reimagine and rearticulate the worlds we inhabit. Antena works with organizations, communities and individuals to create dynamic, well-functioning multilingual spaces for small and large groups of people to foster open communication and attentive listening across languages and cultures.  We primarily work with Spanish and English but have experience coordinating more diverse language combinations.
Inspirations
Antena's endeavors build on the important work of organizers in the field of language justice across the U.S. and the world. We are particularly informed and inspired by the work done at the Highlander Research and Education Center, spearheaded by activist educators Alice Johnson and Roberto Tijerina. We draw inspiration from thinkers, artists and activists working along intellectual borderlands: Echo Park Film Center, Grupo Etcétera, Highlander Research and Education Center, Project Row Houses, Temporary Services, The Jack Kerouac School of Disembodied Poetics, andUltra-Red. We are equally energized by writers and translators whose work ignites shifts in the possibilities for change inherent to language, like Ammiel Alcalay, Gloria Anzaldúa, Lyn Hejinian, bell hooks, M. NourbeSe Philip, Craig Santos Perez and Rosmarie Waldrop. We are further informed by many autonomous small press and literary curatorial projects, like Afinidades electivas/Elective Affinities, belladonna, Corollary Press,Dusie Books, Eloísa Cartonera and the other cartonera presses around the world, Half Letter Press, Printed Matter, and Ugly Duckling Presse.
History
2012:
With Jen living in Los Angeles and JP living in Houston, we begin conceiving of the Southwestern region of the United States and the Northern region of Mexico as a single/multiple zone of possibility for multilingual artistic and activist work; we continue thinking about and experimenting with methods of long-distance collaboration and semi-autonomous projects under the umbrella of Antena. The vision for Antena grows wider as we include our aesthetic practice within our language justice work. We make many to-do lists. From March to June, JP installs a temporary bookstore, reading room and language experimentation lab at Houston's
Project Row Houses
. Jen visits Antena during its last two weeks at Project Row Houses to spend time in the Antena space, participate in the Read/Write club and other literary events, and to work together with JP to explore potential for further expansion of Antena's projects.
2011:
We begin serious conversations about creating a language justice collaborative and decide to purchase simultaneous interpreting equipment together to foster this work. The
Babelbox
enters our lives. At our first interpreting job as a team, the
Critical Ethnic Studies and the Future of Genocide Conference
at UC Riverside, we agree to work together on an ongoing language justice project. We take a hike in the hills above Riverside with poet
Jen Nellis
and immigrant rights attorney
Eunice Cho
to try to come up with a name; we do not find a name. We spend months puzzling over a name that will express some of our ideas around the power of cross-cultural multilingual communication in both Spanish and English (our primary focus languages for now) and eventually land on Antena. We begin to build a website with
Rob Ray
and work on logo designs with
Rosten Woo
. We continue our work together supporting organizations seeking to build multilingual capacity, and instigating multilingual literary events. At the end of 2011, JP leaves Tijuana and moves back to his native city of Houston, Texas.
2006-2010:
Jen and JP first meet in 2006 in Tijuana as part of the
Writing Lab on the Border
, a cross-border experiment in writing. This begins a friendship and occasional correspondence. In 2010, we work closely together on the Language Access Team at the
US Social Forum
in Detroit and start to dream of ways to extend our language justice work. In the same year, we begin spending more time together in our respective cities, Los Angeles and Tijuana.