CA Conrad Flies into Houston! Oh My!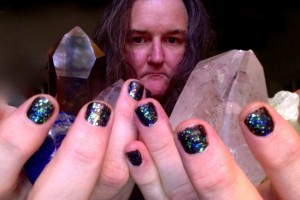 Incredibly excited to announce that CA CONRAD will be flying into Houston for a week in March. Pretty damned exciting! Don't miss his workshop or his reading! All info, including workshop registration info, follows:
Oh My! CA Conrad, Madsen Minax and The Gender Book
at Kaboom Books
116 Houston Ave
Houston, TX 77009
Thursday, March 20 – 7:30-9pm
Join us for an incredible evening of gender pyrotechnics, expressive energies, film, poetry and more!
CA CONRAD is the author of six books including ECODEVIANCE: (Soma)tics for the Future Wilderness (Wave Books, 2014), A BEAUTIFUL MARSUPIAL AFTERNOON (WAVE Books, 2012) and The Book of Frank (WAVE Books, 2010). A 2014 Lannan Fellow, a 2013 MacDowell Fellow, and a 2011 Pew Fellow, he also conducts workshops on (Soma)tic poetry and Ecopoetics. Visit him online at CAConrad.blogspot.com
MADSEN MINAX is an artist working in film/video, sound/music and performance and feels strongly about coming-of-age films, the occult, astrology, science fiction and fantasy, dreams, carnivals, graveyards, roads, erotics, power, social justice, sex work, movement, longing, homeplace…
THE GENDER BOOK was started in a cute grey house in Houston, Texas on Marshall street in the part of town called Montrose. The community on Marshall street was a blend of gender expressions, from the fabulous drag kings to the androgynous couch-crasher, to the soft-butch art teacher, the princess labrador retriever named Jack, little alpha pup named Noah, and a pair of ferrets. These individuals first helped educate each other, and then themselves, to learn more of what it means to live and express and perform one's gender role. The more they learned, the more they wanted to share with everyone else. They saw a need around them in transgender friends who wanted more options on their census forms, and transsexual lovers who had to educate their own therapists, and parents wanting to know how to be supportive of their gender-variant kids. Their solution: the GENDER book. This event is presented by Antena with the support of the Cynthia Woods Mitchell Center for the Arts and the Creative Writing Program at the University of Houston. This is the eighth event of the Failure to Identify series.
&
(Soma)tic Cartographies Workshop with CA Conrad
SKYDIVE Art Space
2041 Norfolk Street
Houston, TX 77098
Wednesday, March 19 – 6-9pm
Fee is Sliding Scale: $25-$50
To register, email John Pluecker at plujo7 at gmail dot com and pay below through PayPal.
(Soma)tic poetry rituals create what we can refer to as an "extreme present" set to reveal the creative viability of everything around us. In our workshop we will find the poems in notes from maps we draw, maps of each other, veins of the room, the street to El Dorado, a chanting, a flow of sap and thoughts inside a tree, a glass of water infused with one inexplicably beautiful day. The map and the poem have endless possibilities! For a recent example "Ant Cartography," go to this link: http://bit.ly/1mKvwzO
With (Soma)tics we will learn how even in crisis we can thrive through the poems, as well as learn to collaborate in unexpected ways with other artistic disciplines. Soon we'll all agree with Alice Notley saying, "poetry's so common hardly anyone can find it."
Both of these events are presented by Antena with the support of the Cynthia Woods Mitchell Center for the Arts and the Creative Writing Program at the University of Houston.