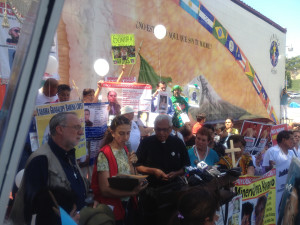 Since Antena's founding in 2010, it has been dedicated to organizing, interpreting, curating, and/or creating multilingual spaces. Antena has worked in partnership with various community organizing projects, non-profit organizations and arts organizations in the United States and abroad.
Currently, our work as language justice organizers and advocates happens primarily through sister organizations at a local level in Houston and Los Angeles. Antena Houston and Antena Los Ángeles organize for language justice, by working with groups, communities and individuals to create dynamic, well-functioning multilingual spaces to foster open communication and attentive listening across languages and cultures. We primarily work with Spanish and English but have experience coordinating more diverse language combinations.
In 2014, Antena Los Ángeles was founded as an Antena sister organization, with the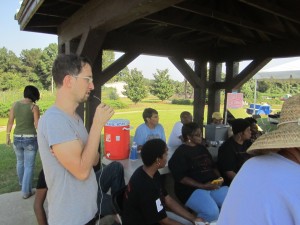 participation of Miguel Morales Cruz and Ana Paula Noguez Mercado. Antena Los Ángeles  is specifically focused on building multilingual spaces locally in Southern California.
In 2015, Antena Houston was launched as another sister organization to do the same in the Bayou City, John Pluecker's home. Antena Houston works on an on-going basis with various organizations in the region.
If you are interested in learning more about language justice and building multilingual spaces, please download a copy of our how-to guide How to Build Language Justice on our Libros Antena Books page.